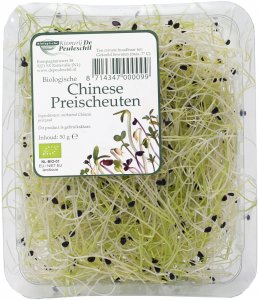 Chinese Preischeuten zijn verwant aan andere lookachtigen.
Familie: lelies
Voedingsstoffen: Rijk aan vit. A, B, C en E / calcium, fosfor, ijzer en magnesium.
Smaak en toepassingsmogelijkheden: Chinese Preischeuten hebben een zéér bijzondere prei-knoflookachtige smaak. Door de prachtige groene kleur lenen de kiemen zich uitstekend voor decoratief gebruik. Chinese Preischeuten kunnen in salades worden verwerkt, maar zijn ook geschikt om vlak voor het opdienen te worden toegevoegd aan een warme maaltijd of soep. Ook héél lekker op stokbrood met brie of roomkaas.